Clash detection services are essential in integrated BIM modeling procedures. A design must be realized as expected, with no problems or issues. BIM modeling involves creating a comprehensive master model with design models from different disciplines, including Architectural, Structural, Mechanical, Electrical, and Plumbing. As the project's complexity grows, more teams are involved. Consequently, clashes and interferences are inevitable.

By identifying interferences during the design process, we provide clash detection services for our client's complex and seemingly easy projects among single and different disciplines. Our team of experts as a BIM company locates issues and clashes through the inspection of models between different design disciplines and finds the most efficient solution to fix them to ensure the sustainable design and efficient construction planning.
What are clash detection services?
Clashes happen when two elements overlap in an individual or multi-disciplinary model. Clash detection is the technique engineers use to find if two elements in the design model occupy the same space.
Before the technologies that serve engineers and BIM modelers nowadays, engineers had to identify clashes in 2D sketches without an automated approach. Consequently, many clashes emerged on the construction site because of human errors. It is one of the most critical reasons construction projects go over budget. It also leads to delays in the construction project.
Nowadays, clash detection services occur during the design stage- before construction begins. The main benefit of clash detection services during the pre-construction stage is that constructability issues can be addressed during the design stage. This helps to save time and money.
BIM services provide a clear model overview and allow project stakeholders and teams to visualize the model before construction. It helps the design teams of the project to identify potential interferences and resolve them during the design stage. It results in more accurate designs and prevents the project from going over budget. This method is so useful for involved teams to improve collaboration and data communication during the project. BIM benefits all involved teams, including architectural, mechanical, electrical, and structural, to work on the same platform and identify clashes and element conflicts during the design stage.
Benefits of clash detection services
Clash detection services based on BIM during the design stage speed up the project in the construction stage. As mentioned above, clash detection helps designers to identify interferences during the design stage allowing architects and contractors to avoid multi-level design changes. Clash detection services lead to:
Lower overall cost

Less material waste

Faster project completion

Accuracy and precision

Being able to order prefabricated materials
Clash detection services made a massive difference in engineering design firms by providing a platform for all involved individuals to have a clear overview of the model to analyze and resolve clashes. The technology has served the construction industry by resolving interferences issues.
BIM clash detection services have also been so helpful to architects and designers by making the design process much more straightforward- giving them the ability to control and supervise various elements during the design stage. BIM helps them to analyze components and make the best decisions since accuracy, precision, and efficiency are essential in construction projects.
To summarize, BIM clash detection services include the final location of interferences and aid design teams in designing more efficiently. It also reduces the costs of reconstruction.
Types of clash detection services
Clashes in construction projects fall into three categories:
Hard clash

Soft clash

Workflow clash
Hard clash
Hard clashes happen when two or more elements interfere and occupy the same space. This can happen in an individual discipline or when different disciplines are linked. Hard clashes are more likely to be identified because of the logical arrangements of elements and their null dynamics.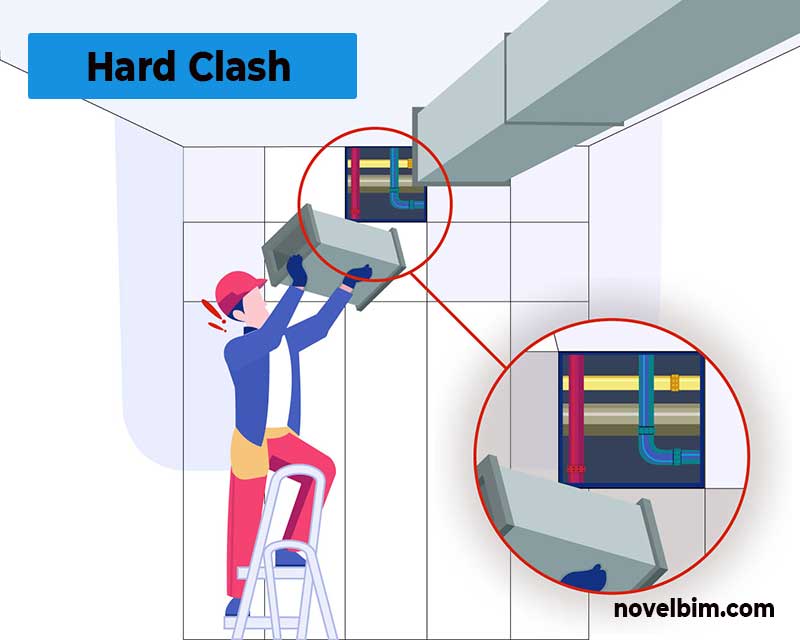 Soft clash
Soft clashes are those in which enough geometric tolerance is not provided for an object. Soft clashes show that the object's buffer zone is not considered. For instance, for an element such as an air conditioning unit, sufficient space should be considered. When the designer fails to meet this need, soft clashes happen. Not resolving soft clashes may lead to maintenance problems and safety issues.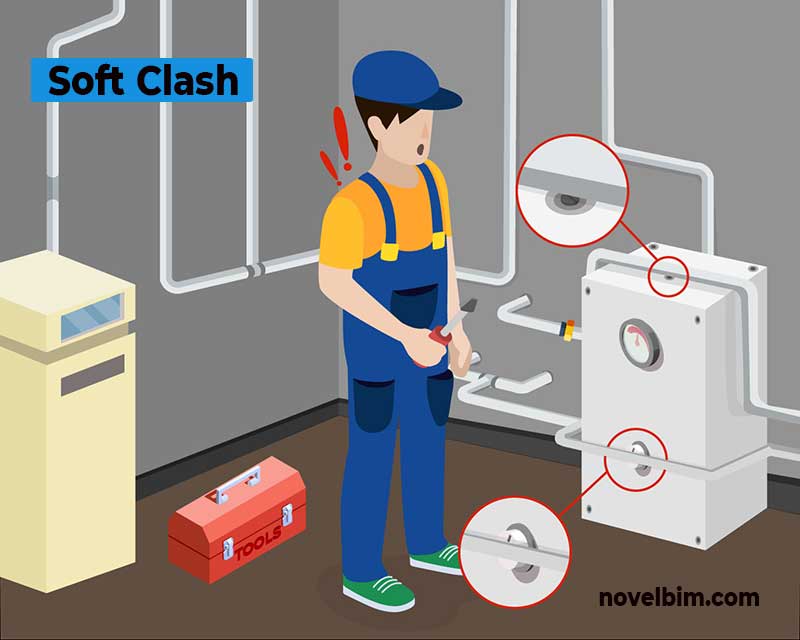 Workflow clash
The workflow or 4D clashes happen when there are workflow timeline conflicts. That is to say when there are conflicts in contractor scheduling, equipment, and material delivery. It is obvious that clashes have a cascading effect on several disciplines and can result in inefficiency in other disciplines as well. The solution to this type of clash involves 4D construction sequencing in Navisworks software. We assure you that we are experienced in detecting and resolving hard and soft clashes. We can also help you with the workflow type of clash.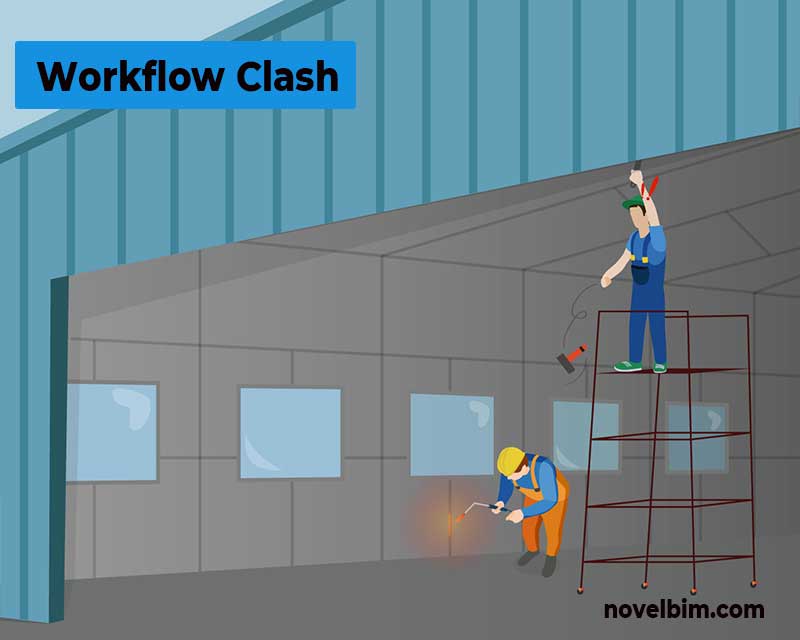 Clash detection software
We use Autodesk Navisworks software for the clash detection services process. Navisworks is one of the best BIM-adopted software in the market. We identify where the independent models interfere with each other or where components occupy the same space. We detect where elements overlap and provide our clients with a clash report with detailed incompatibilities.
Clash detection software eases the process of interference identification and helps our engineers to generate clash reports. The identified clashes can be reviewed and resolved during the design stage, preventing the construction project from facing these clashes on-site.
We promise the following for bim clash detection services:
To provide clash detection services in individual and multi-disciplinary projects

To provide detailed bim clash report generation

To help you make strategic decisions for any design changes or change orders
The additional benefits of choosing us for clash detection services:
We are experienced in BIM clash detection services as we have completed many complex projects

We help you identify clashes before the construction phase and during the design stage

We also provide MEP clash detection services based on your requirements

We do care about your brand as well as ours. We will bring precision and accuracy to your project.

We will help you to constrain the project from going over budget because of the unsolved clash detection processes

We also categorize clashes based on their importance